Wallpaper can easily date any room. You can update any room with a fresh new coat of paint, but first you have to remove the wallpaper. While removing wallpaper can be relatively easy, it is time consuming and it can cost up to $1,000 for professional removal. If you don't want to spend that match and have the time, you can easily do it yourself.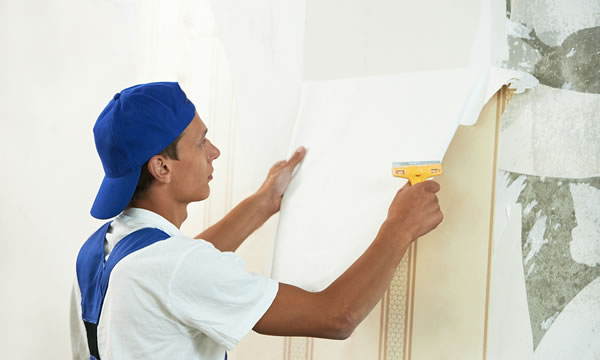 The material the wall is made of will determine the way you remove the wallpaper. Typically walls are either plaster or drywall ; drywall limits your options on how to remove the wallpaper because while it can come into contact with water, it is more susceptible to damage than plaster.
STEAMING THE WALLPAPER
Steaming wall paper used to be a popular technique. It is typically used when there is more than one layer of wall paper or if the wallpaper was painted over. The steam will penetrate the wallpaper and soften the glue so that you can scrape off the wallpaper with a scraping tool, such as a plastic putty knife or a drywall knife. The longer the exposure to the steam, the easier it will be to scrape off.
*Steam may damage the drywall because of the extended exposure to water, so be wary if you use this method
SOAKING AND SCRAPING
There are many commercial solvents to strip wallpaper from the wall available. All you need to do is score the wall to create little openings so that the solvent can make contact with the adhesive. Spray the solvent onto the wall and let it sit for a few minutes. After letting it sit, you can peel away the wallpaper or use a putty knife to help peel it off. It is best to do small sections at a time. After removing all the wallpaper, clean the walls with detergent and hot water to remove any residual adhesives.